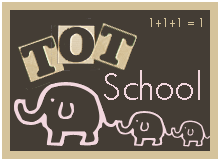 Izzie is 39 months old
and Mac is 10 months old.
We had a very relaxing Tot School week...I'm hoping to get more on a schedule for the new year.
I found my old table top tree from teaching. Izzie loves that she has her own "baby" tree to decorate, which she does several times throughout the day!
Izzie enjoyed stringing beads on pipe cleaners. She made a bracelet for herself and a wreath for our Christmas tree.
She really enjoyed making these premade craft kits. I gave her one kit each day and placed all the materials out with a glue stick and the picture of the finished craft. I stepped back and watched to see what she would create. I'm impressed that her creations look a lot like the finished craft on the package! I helped with the drawing of the whiskers and mouths. I bought these at Michael's last year after Christmas for only 10 cents each!
Izzie loves receiving mail and is having a blast with receiving Christmas cards. Her Great Aunt sent her these cute Nativity stickers. I gave them to her with a scrap piece of paper and to my amazement, she created a picture perfect Nativity scene.
Izzie made several adorable snowflake ornaments for our Christmas tree. Click
here
for original post with more pictures and material list.
I'm still encouraging Izzie to use tweezers to pick up objects, but she politely refuses!
Izzie playing with the homemade Play-doh that we made. Click
here
for original post with instructions.
Who's in Mac's toy box? Izzie enjoyed counting and organizing Mac's toys.
Mac is having so much fun with our
Fisher Price Nativity set
.
Mac is fascinated by the washing machine. She loves standing and just watching and watching!
Mac has recently learned how to open the kitchen cupboard doors and loves making music with Izzie! I have all the doors locked, except two (the one with my pots and pans and the other with my Tupperware...I don't mind her exploring in these two cupboards).
She's been walking for about 2 weeks now and is getting better everyday! She's up to about 5 steps before falling down.
Be sure to check out
1+1+1=1
for more Tot School activities!