My girls, ages 7 and 5, love music, whether they're singing and dancing along to a favorite character's theme song in our living room or a popular song on the radio, they are constantly singing. It seems like once the lyrics go in, they are easily remembered and repeated. So, I'm always monitoring their music and trying to find wholesome age-appropriate music for them to listen and sing along too.


This summer my girls have been enjoying the music from
Happy Kids Songs
.
Happy Kids Songs
produces adult quality music that is entertaining and age-appropriate for younger children.
There are 8 different albums to download, each containing 5 songs.
Cost: $4.95 per album or $0.99 per song
Recommended Age: 3-8 years old
We received the following downloadable albums to review:
Friends & Sharing (Set 1)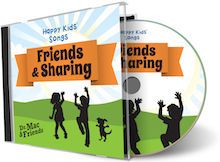 The topics on the
Friends & Sharing
album includes, essential ingredients of friendships, tools for reaching out to others, making sure to include others, being happy with friends, and dealing with saying goodbye. A
sample
of each song is available.
Happiness & Attitude (Set 5)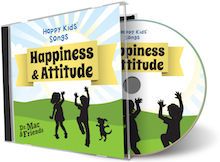 The Happiness & Attitude album has songs related to being thankful, positive thinking and giving compliments, paths to happiness, handling frustration and limitations, and being together and apart. A sample of each song is available.
Manners & Character (Set 6)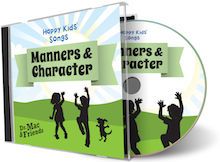 The main topics on the
Manners & Character
album are the value of honestly, rudeness and manners, appreciating differences, consideration for others, and honoring other perspectives.
In addition, we received the physical book,
Happy Kids Songs Workbook: Hands-On Activities to Build Character, Social and Emotional Skills
.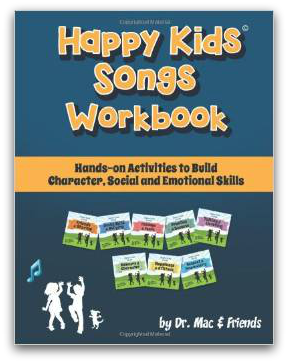 The soft-bound workbook consists of 125-pages, including a lyrics page and a coloring or activity page for all 40
Happy Kids Songs
. In addition, there are numerous lessons, including activities, such as crafts, movement, drama, games, and discussion topics.
Cost: $12.56
Recommended Age: 3-8 years old
*Receive
free downloadable
pages of lyrics, coloring and activity pages for all 40
Happy Kids Songs
by signing up on their mailing list via e-mail.*
qqqqqqqqqqqqqqqqqqqqqqqqqqqqqqqqqqqqqqqqqqqqqqqqqqqqqqqqqqqqqqq
How did we incorporate
Happy Kids Songs
?
-After downloading the songs, I reviewed all songs and decided which ones were most appropriate for my girls. Most of the songs had a catchy beat and had a good message for young children. However, there were several songs that I did not find appropriate or beneficial for our home; therefore, my girls were unable to listen to those particular songs. Once I decided which songs were a good fit for our family, I simply burned the songs on a CD.
-After reviewing the songs, I wasn't sure how my girls were going to respond. My girls love music, but they are very picky about their music. They listened to the
Happy Kids Songs
, while free playing and while in the car. They enjoyed many of the songs, but found some songs a little too childish.
qqqqqqqqqqqqqqqqqqqqqqqqqqqqqqqqqqqqqqqqqqqqqqqqqqqqqqqqqqqqqq
What did I like about the albums from
Happy Kids Songs
?
-The songs were age-appropriate for younger children and the themes were directly related to common issues for the age group of 3-8 years old. However, several topics were questionable with how they were presented. I would highly recommend parents to preview the songs first and decide which songs are appropriate for your children.
-The variety of music was refreshing. Each song had it's own style. There were adult and child soloists, children's chorus, and a wide range of instruments and styles of music.
-You can create your own custom CD for your children by downloading and burning only the songs that you want. This is extremely beneficial.
qqqqqqqqqqqqqqqqqqqqqqqqqqqqqqqqqqqqqqqqqqqqqqqqqqqqqqqqqqqqqqqq
Facebook:
https://www.facebook.com/happykidssongs
Twitter: @howsyourfam
YouTube:
www.youtube.com/user/4DrMacMusic
Be sure to sail over to see what other Crew Mates had to say about their experience with Happy Kids Songs.