Wizzy Gizmo
is a series of Bible books, audio books, and flashcards that explain the Bible in a fun and engaging way. During the summer, we spend a lot of time traveling, so I'm always trying to find purposeful movies and audio resources for my girls, ages 7 and 5.
Audio Drama One: Who Created Everything?
has been a huge hit this summer!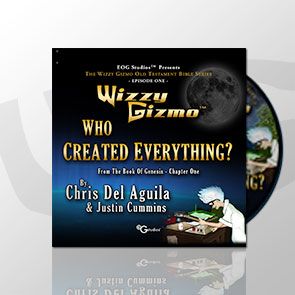 Price: $14.99
Recommended Ages: 4-12
qqqqqqqqqqqqqqqqqqqqqqqqqqqqqqqqqqqqqqqqqqqqqqqqqqqqqqqqqqq
What's included with Audio Drama One: Who Created Everything?
-There are a total of 22 tracks; 60 minutes in length. The audio drama is based on Genesis chapter one and lasts for 36 minutes. The remaining 24 minutes consists of bonus soundtrack content. The tracks continuously flow from narration, retelling the days of creation, and entertaining songs.
-The CD begins with a new child in town, Eli, who meets new friends that invite him to Wizzy Gizmo's workshop. Wizzy Gizmo is a genius inventor, who loves God and loves to explore the Bible. He recently completed his newest invention, the Gizmovision, which allows him to travel back in time. They decide to travel back to the beginning of time and are able to observe what happened on each day of creation.
- The audio drama is followed by a short Giz Quiz about the days of creation.
-There are 5
samples
from the audio drama section of the CD to give you a glimpse of the awesomeness.
-The last 24 minutes consists of a bonus soundtrack, including 7 songs, 5 of the songs are instrumental. My girls really enjoyed listening and singing along with the songs. The instrumental songs were very soothing.
qqqqqqqqqqqqqqqqqqqqqqqqqqqqqqqqqqqqqqqqqqqqqqqqqqqqqqqqqqqqq
What are my final thoughts on Audio Drama One: Who Created Everything?
-My girls loved it! There was a ton of giggling happening in the back seat each time they listened to the CD. Not only were they entertained by the silliness, they were exploring the amazing wonders of creation.
-I appreciate that the story was age-appropriate for younger children. My girls didn't mind listening to the story, over and over, again. Each time, they would catch a new detail or have a new question to ask. It really encouraged family discussions regarding creation.
-The narration and variety of voices kept my girls' attention. The silliness helped too. At first, I was concern that the silliness was going to be too much and it would take away from the Biblical story, but I was wrong. There was a nice balance between fiction and non-fiction within the story.
-The songs were really good and very easy to sing along with. We all enjoyed singing along with the songs!
-I'm hoping that
Book 2: In His Image
will be available as an Audio Drama, as we would love to add to our audio collection.
qqqqqqqqqqqqqqqqqqqqqqqqqqqqqqqqqqqqqqqqqqqqqqqqqqqqqqqqqqqqqq
Be sure to sail over to see what other Crew Mates had to say about their experience with Wizzy Gizmo.