Apologia Educational Ministries
publishes award-winning creation-based homeschooling science curricula that help families learn, live, and defend their Christian faith.
Apologia has a
Young Explorer Series
designed for elementary grades K-6, ages six to thirteen. Within the series, there are six different subjects to explore, including astronomy, botany, flying creatures, swimming creatures, land animals, and human anatomy and physiology. Each book was written by Jeannie Fulbright, who is a homeschooling mom of four. Her desire was to create a creation-based, scientifically sound, engaging, and easy-to-use science curricula for homeschooling families. In addition, she writes the Young Explorer Series based on the Immersion Approach, that recommends all children, even young children, be exposed to in-depth, above their perceived grade level material.
I'm a former high school science teacher, current homeschooling mom, who's been searching for a user friendly science curriculum that contains both biblical and scientific information. After investigating the Young Explorer Series, I was intrigued by the Immersion Approach and beyond thrilled to have the opportunity to begin the study of God's magnificent creation with my girls using a book from the Young Explorer Series.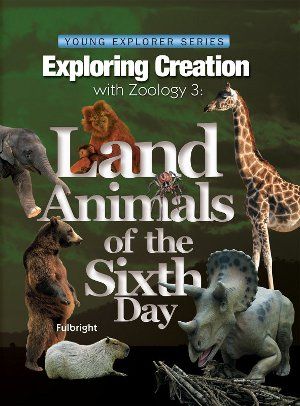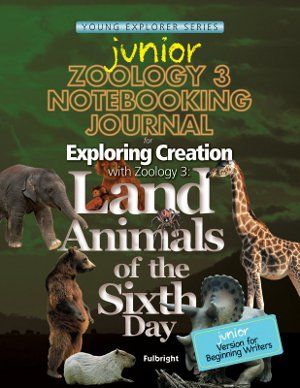 qqqqqqqqqqqqqqqqqqqqqqqqqqqqqqqqqqqqqqqqqqqqqqqqqqqqqqqqqqqqqqq
What's included in the Exploring Creation with Zoology 3: Land Animals of the Sixth Day textbook?
There are 14 lessons, 288 total pages, covering the different kinds of land animals, each containing a vast amount of biblical and scientific information. Most lessons can be covered within two weeks; however, it's designed for flexibility depending on age and attention span of the student(s). Izzie, 6, has been able to complete one lesson every two weeks, spending approximately 30-45 minutes, four days a week on the material.
Within each lesson, the student is asked to retell or narrate the information that was just read in order to help improve his or her ability to effectively and clearly communicate his or her knowledge to others. We're using the text as a read-aloud, so when I first started reading the material to Izzie, I quickly noticed that the information was very in-depth, most of it was new to her, and it was definitely above her grade level. I was concern that she wasn't going to understand most of the material, but she has surprised me immensely when she narrates the information. Actually, she has blown me away with what she is learning and retaining! Even my preschooler, 3 years old, is retelling pieces of the material.
In addition, within each lesson there are Map It! sections. Since there are many different types of animals presented throughout the book, it is suggested that the student place images or stickers of animals studied during the lesson over a location where the animal is typically found. A large wall map would work best; unfortunately, we do not have one, so Izzie has been mapping the animals in a binder.
Izzie is using the Map It! Stickers included in the Junior Zoology 3 Notebooking Journal.
Map It! Stickers
Mapping Canines from Lesson 2
I am a little concern, since there are several pages of stickers, she is going to run out of room on each continent page. I want her to be able to place the animals in the correct area on each continent; therefore, we will probably invest in a large wall map.
Many lessons have

Track It!

sections that include pictures or drawings of animal tracks related to the lesson. It is encouraged that the student either trace or draw these tracks. I have been printing off the tracks (from various resources on the Internet) for Izzie and she has included them in a section of her binder from above.
Canine Tracks from Lesson 2
There are also Try This! sections in many lessons. These sections contain hands-on explorations to reinforce the material being learned. I adore the way the student is encouraged to actively participate!
In Lesson 2, Izzie learned that many mammals have sweat glands that release moisture onto their epidermis, which eventually evaporates, resulting in cooling off the mammal. To better understand this process, she completed the Try It! section.
Here, they are blowing on their hands, one is dry and one is wet. They both discovered that the wet hand felt cooler when it was blown on. Izzie was able to explain that her wet hand was cooler because the water was evaporating, just like sweat!
In Lesson 3, the girls learned what they should do if they ever encounter a bear in the wild! I was always taught to play dead, but after reading this section, I quickly discovered that's not the best option. Running away and climbing a tree are not smart options, either.
The girls demonstrating the proper techniques to stay safe when encountering a bear.
First, face the bear, without looking it in the eye, and slowly walk backward.
If the bear rises up on it's hind legs and begins to charge after you, wave your arms and shout.
If the bear reaches you, try to punch the bear in it's nose!
I love that even Mac, 3 years old, is learning and can actively participate too!
At the end of each lesson,

notebooking activities

are included to give the student additional practice with the material.
The Notebook Activity at the end of Lesson 2 was to create a canine newsletter, including information that was learned in the lesson. The template was included in the Junior Zoology 3 Notebooking Journal. Izzie had a lot of fun creating her newsletter about domesticated dogs.
Notebooking Activity from Lesson 2
Every lesson concludes with a hands-on project or experiment to reinforce the material that was learned throughout the lesson. Mostly inexpensive, common household items are needed to complete the project/experiment. At the beginning of the book, there is a comprehensive list of needed materials for each lesson, which is very convenient.
At the end of Lesson 1, Izzie and Mac completed the Predator/Prey experiment that reinforced the concept of camouflage and natural selection.
A Scientific Speculation Sheet, which is found at the front of the book, is required for most experiments. The corresponding notebooking journal also contains these sheets.
qqqqqqqqqqqqqqqqqqqqqqqqqqqqqqqqqqqqqqqqqqqqqqqqqqqq qqqqq
Your student(s) will be able to complete the science curriculum with just the textbook; however, I would highly recommend a notebooking journal! There are two different notebooking journals to choose from,
Zoology 3 Notebooking Journal
and
Junior Zoology 3 Notebooking Journal
. The junior notebooking journal is designed for younger elementary children (K-3), with limited handwriting and narration skills, as well as for older students who have learning disabilities. Izzie is working through the junior notebooking journal.
The Junior Zoology 3 Notebooking Journal for Exploring Creation with Zoology 3: Land Animals of the Sixth Day correlates with the textbook and contains everything needed to complete all assignments within the textbook. It is designed to help the student retain more information by including numerous templates, hands-on crafts and projects, additional experiments, and many more activities to help engage the student. It is bursting with 274 notebooking pages, 62 color cut and fold miniature book pages, and 5 pages of color stickers. I really like how it is stressed that everything in the notebooking journal is optional and the goal is not to complete every activity; instead to create a unique notebook for your student based on his or her desire.
What's included in the Junior Zoology 3 Notebooking Journal?
A suggested schedule for the reading of the text and completion of the activities in the text and notebooking journal. The schedule is neatly organized into a 2-day week chart, which allows two weeks to complete each lesson. It was far too much information for Izzie to handle in just two days, so we have been working on the material for 30-45 minutes, four days a week. However, we are still able to complete one lesson every two weeks.
Suggested Schedule
There are two coloring pages for each lesson. I like that there is a Bible verse at the bottom of each coloring page. Izzie enjoys coloring, while I read aloud the text.
Coloring Page from Lesson 2
Most lessons contain a Fascinating Facts template page that includes several empty boxes and writing lines. After the reading session, your student can utilize this page by creating illustrations, diagrams, or short narrations about anything he or she found interesting. Izzie seems to find a lot of information interesting and gets a little frustrated that she can't write down all the information. There's limited space and with a larger handwriting, we've agreed to write down a couple of interesting facts and then find corresponding pictures together on the Internet.
Fascinating Facts: Lesson 1
Fascinating Facts: Lesson 2
In addition, most lessons contain another template to use along with the notebooking assignment from the textbook.
Lesson 1 Notebooking Assignment: Illustrating a predator/prey relationship.
Lesson 2 Notebooking Assignment: Canine Newsletter
There are also hands-on vocabulary activities for each lesson to reinforce the new terminology. There seems to be a variety of vocabulary activities, which is a great way to keep the interest of the student.
Vocabulary Activity from Lesson 2
Most experiments from the textbook require the student to complete a Scientific Speculation Sheet. There is a generic Scientific Speculation Sheet in the textbook, but the ones in the Notebooking Journal are tailored for each specific experiment.
Scientific Speculation Sheet: Lesson 1
I really appreciate the flexibility within this curriculum, even with the experiments. We didn't have the suggested M&M candies, but was able to replace with another type of color candy. However, we did have to create another chart, since the colors were different.
Furthermore, there is Scripture Copywork, print and cursive, included in each lesson. I love how the copywork not only helps Izzie practice her writing, spelling, and grammar skills, but also encourages verse memorization.
Scripture Copywork from Lesson 1
There are Cut and Fold Miniature Books, found at the back of the journal (62 pages in color), for each lesson. I was very impressed that all of the miniature books are in color! These books are to help reinforce the concepts learned. The completed books can be displayed on the Paste Pages within the notebooking journal.
Cut and Fold Miniature Book from Lesson 1
Izzie working on Cut and Fold Miniature Book from Lesson 2
Lesson 2 Paste Page with Cut and Fold Miniature Book
Also included in the back of journal, are five colorful pages of stickers to use for the Map It! sections in the textbook.
Map It! Stickers
At the end of each lesson, there is an Explore More page, which consists of additional experiments, activities, research and living book titles, and audio and video resources. We raided our local library and Izzie was thrilled with her stack of books for each lesson. Most of the suggested books were available. These books were placed in our afternoon reading basket and read throughout each 2-week lesson.
Lesson 1 Additional Reading
Lesson 2 Additional Reading
Additionally, there are Project Pages included for your student, if he or she completed one of the projects in the textbook or from the Explore More page. We used the Project Pages to record Izzie's observations from the Try This! activities in the textbook.
Project Page completed with Try This! from Lesson 1
Lastly, Field Trip Sheets can be located at the back of the journal.
qqqqqqqqqqqqqqqqqqqqqqqqqqqqqqqqqqqqqqqqqqqqqqqqqqqqqqqqqq
What I liked:
My daughter LOVES completing the activities, even my preschooler gets excited...enough said!
The suggested schedule is extremely adaptable for different ages and can even be used with multiple aged children

at once.
The text is written in a conversational style aimed directly to the student. It is an enjoyable read for the parent too. It's a perfect balance between biblical and scientific information.
The hands-on activities are simple, fun, and very educational.
I absolutely love that at the end of every lesson there is a hands-on project or experiment to reinforce the material throughout the lesson.
Price is very reasonable for all the resources that are included.
qqqqqqqqqqqqqqqqqqqqqqqqqqqqqqqqqqqqqqqqqqqqqqqqqqqqqqqqqqqq
What I would suggest for improvement:
I really like the animals stickers included for the Map It! sections, but would love them even more, if there was a compatible map included! I would even be willing to pay extra for this supplement.
My daughter enjoyed completing all the activities in the notebooking journal, but it was a lot. It is stressed that everything in the notebooking journal is optional and just tear out the pages that you and your student decide not to complete in order to create a unique notebook for your student. However, many pages are printed front and back, with different activities on each side. So, if you complete the front, but not the back, you can't actually tear out the page. My daughter does not want any uncompleted pages in her notebook. She isn't writing in cursive, so even having those Scripture Copywork uncompleted pages was upsetting to her. It would be absolutely wonderful if there was an option to purchase the notebooking journal as a PDF file, so you could print off only the needed pages and truly create a unique notebooking journal.
qqqqqqqqqqqqqqqqqqqqqqqqqqqqqqqqqqqqqqqqqqqqqqqqqqqqqqqqqqqqq
In conclusion, I would highly recommend the Young Explorer Series from Apologia.
Exploring Creation with Zoology 3: Land Animals of the Sixth Day textbook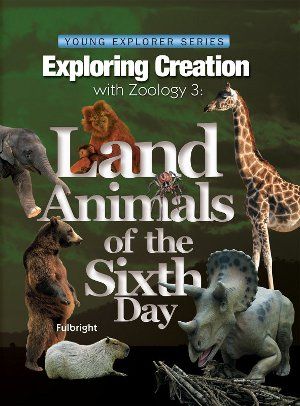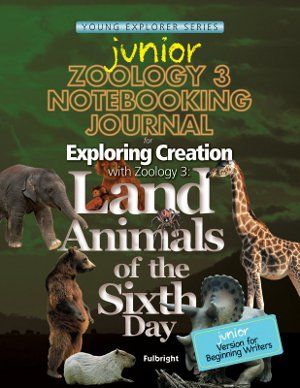 Junior Zoology 3 Notebooking Journal for Exploring Creation with Zoology 3: Land Animals of the Sixth Day
This textbook and notebooking journal will remain in our homeschooling library for years to come; they are such fabulous resources!
I look forward to exploring the other topics within the Young Explorer Series.
Be sure to check out what other Crew Mates had to say about other books in the Young Explorer Series.



Disclaimer: I received a free copy of this product through the Schoolhouse Review Crew in exchange for my honest review. I was not required to write a positive review nor was I compensated in any other way. All opinions I have expressed are my own or those of my family. I am disclosing this in accordance with the FTC Regulations.