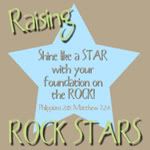 This week, the girls are learning about Noah's Ark. Each morning, we have been reading the Noah's Ark story out of their
Read and Share Bible
. Then, Izzie uses her
story cards
to retell the story, while using her felt board pieces too.
I laminated and attached the
story cards
to a ring.
Izzie making felt board pieces...
Coloring Noah (I'm not sure why she insisted on him having purple skin).
Helping Noah build the
Ark
. She also colored several
animals
, 2 of each.
Noah's Ark with animals on felt board, watching it rain...I found the
raindrops
and an adorable
song
that we sing as Izzie places the raindrops on at
ChildCareLand
.
To create the rainbow, Izzie completed the
Color A Rainbow Dice game.
Roll...
Count...
Color...
The completed Felt board.
Izzie is loving being able to retell Noah's Ark story, using her story cards and felt board pieces! It's been raining this week, perfect weather for our story and on Monday we even saw a rainbow!
In addition, Izzie has been practicing her writing skills by helping the animals on the ark with this cute
tracing page
.
To see more Raising Rock Stars, please visit
1+1+1=1
.