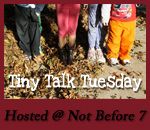 Izzie is 35 months old.


Scene: In the kitchen, looking at her artwork on the refrigerator.
Izzie: Mommy, I have so many pretty pictures.
Me: Yes, you do!
Izzie: I want to give one away.
Me: That would be wonderful. Who do you want to give one to?
Izzie: Ummm...I think, the trash can!