Yesterday, I stumbled upon
Blogging through the Alphabet at Ben and Me
and it looks super fun, so I've decided to take the challenge of blogging a different letter of the alphabet each week. Lucky me, this just happens to be the first week of Blogging through the Alphabet!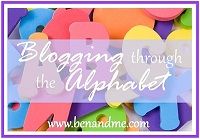 This a perfect opportunity to blog about our apple picking fun last fall. Yes, we went apple picking last fall and I haven't blogged about it, yet!
We go every year to an apple orchard way on top of the mountain. The views are breathtaking and they have the best apples in the county! Unfortunately, this year, the day we went, it was extremely cold...around 30 degrees cold!
We headed to the orchard with a group of friends and the staff did a fabulous job teaching the life cycle of an apple to us. Izzie and Mac learned about the parts of a flower and pollination.
Afterward, we took a bumpy hayride around the orchard, which is always a favorite!
Then, it was off to pick apples!
After picking a ton of apples, we headed to the back deck to enjoy the beautiful mountain views and apple cider donuts!
Delicious!
I was hoping to get a huge stash of Granny Smith apples for baking. However, due to the large amount of wind storms, the Granny Smith apples weren't available on top of the mountain. Thankfully, there's another orchard in the valley!
A few days later, we headed to the other orchard for Granny Smith apples and enjoyed homemade pancakes and fresh apples from the orchard!
After breakfast, the girls jumped in the wagon and we headed to the orchard for more apples! Since there was a shortage of apples on the top of the mountain, we didn't have a lot of apples to choose from, but it was the perfect morning for a photo shoot!
Homemade apple pie!