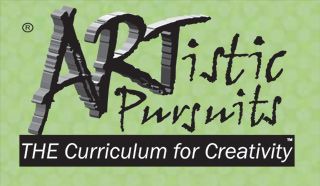 ARTistic Pursuits is an award winning, comprehensive art curriculum designed for children in preschool through 12th grade. Each grade level contains a variety of fun art lessons that encourages student involvement in the creative process, while developing observational skills and learning a variety of techniques used by artists.
ARTistic Pursuits just revised and expanded their entire art curriculum! The new revised and expanded 3rd editions offer additional lessons, more information on art techniques, and extra help to guide each student through a variety of processes that will expand their abilities when using art materials.
I was thrilled to have the opportunity to review one of the three Early Elementary K-3 level books for my budding artist.
We received:
The soft, comb-bound
ARTistic Pursuits, Early Elementary K-3 Book One: Introduction to the Visual Arts
for students five and older ($47.95).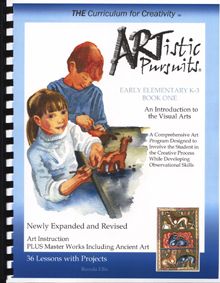 qqqqqqqqqqqqqqqqqqqqqqqqqqqqqqqqqqqqqqqqqqqqqqqqqqqqqqqqqqqqq
What's included in the Early Elementary K-3 Book One: Introduction to the Visual Arts?
In the very beginning of the book there is a detailed list of materials needed to complete the lessons. I really like that each lesson project is organized in a color-coded material group for easy reference. I was able to find all the required supplies at a local craft supply store.
Book One, Introduction to the Visual Arts: Materials Needed
Within the book, there are three sections:

Section 1, What Artists Do
In the first fourteen lessons, your student will be introduced to ideas that are important to understanding visual arts. The child will use these ideas and discover what it is to be an artist. Your student will participate in composing, imagining and looking at ways art is made, begin using materials that artists use, such as, watercolor crayons and pastels, and discover the different types of subjects artists work from, such as landscapes and people.
Section 2, What Artists See
The next seven lessons give your student the opportunity to create art that originates from his or her interests. During this section, the basic elements of art are defined and your student will explore two-dimensional and three-dimensional work by creating collages, drawing and color mixing, and folding paper. In addition, your student will gain experience with handling scissors and using a paint brush.
Section 3, Where We Find Art
The last fifteen lessons is designed to follow art history. Your child will discover a variety of places where art is found from cave paintings to book illumination of the Middle Ages. In addition, your child will be given more ways to explore art media, such as oil pastels and clay.
At the beginning of the book, there is an organized Table of Contents.
Book One, Introduction to the Visual Arts: Table of Contents
There are 36 lessons, with a total of 95 pages. Each lesson is broken into three mini-lessons. In order to use only one book per school year, the student only needs to complete one lesson per week. Most lessons can be completed within one setting. However, it's designed with flexibility; therefore, each lesson can be stretched out over several days. Izzie,6, has been able to complete most lessons in a single setting, spending approximately 30-45 minutes, one day a week on the lesson. She loves to create, so it's been extremely hard to keep it to only one lesson per week. If allowed, she would complete a project every day!
Each lesson begins with a short reading that the parent reads to the student. ARTistic Pursuits curriculum is designed to encourage student participation with parent interaction followed by independent work.
Book One, Introduction to the Visual Arts: Lesson 2, Reading Section
Lesson 2 taught Izzie that artists can use their imagination to create art. The reading lessons are short and informative. It is the perfect length to keep an early elementary child's attention.
After the reading, there is a short observation activity and art discussion.

Izzie really enjoyed observing the full color artwork! Each piece in every lesson was carefully chosen to capture the student's attention. At the top of the page there is a short paragraph about the artwork and a brief explanation of how it is related to the read-aloud from previous section. At the bottom, there are several questions that will encourage the student to observe the artwork very closely for more details. The questions are age-appropriate and are written to encourage a discussion about the artwork.
Lastly, the student creates an original piece of art. The project section is very organized, including the color-coded list of materials needed and detailed instructions on how to use the needed materials.
Book One, Introduction to the Visual Arts: Lesson 2, Project-You Imagine!

For the Lesson 2 project, Izzie had to think about a time she enjoyed and then use her imagination to add to her artwork.
Lesson 2, Artists Imagine: Izzie thinking about what to create.
She decided to draw Natural Bridge, a large natural-made bridge, that she visited last fall on a field-trip. She remembered that there was a little creek that ran under the bridge, so using her imagination, she decided to turn the creek into an ocean with alligators! She drew herself, the princess, inside a little boat. She made the sky a lovely red, orange, and yellow because it was at sunset. I loved that she was really able to get creative with her drawing.
qqqqqqqqqqqqqqqqqqqqqqqqqqqqqqqqqqqqqqqqqqqqqqqqqqqqqqqqqq
Lesson 1, Artists Compose: Using watercolor crayons.
Lesson 1, Artists Compose: Completed project.
During Lesson 3, Izzie learned that artists look at the world to see more details and art is more interesting when details are included. The project section encouraged us to go on an outdoor nature hunt to find objects to draw. Izzie was able to find several different leaves, pebbles, a pine cone, and a stick. She was to sketch these items with an ebony pencil.
In Lesson 4, Izzie discovered that artists communicate with pictures. She was requested to create a picture that "talks", using watercolor crayons.
Lesson 4, Artists Communicate: Using Watercolor Crayons
Izzie decided to draw a picture of a water park. She included smiling children in bathing suits having fun going down the water slides!
Lesson 4, Artists Communicate: Completed Project
qqqqqqqqqqqqqqqqqqqqqqqqqqqqqqqqqqqqqqqqqqqqqqqqqqqqqqqqqqqqqqq
What I liked:
The Early Elementary K-3 Book One: Introduction to the Visual Arts is extremely kid-friendly.
The reading lessons are short and informative. Perfect length to keep an early elementary child's attention.
Each lesson contains a colorful famous artwork with an observation activity and/or discussion questions.
The entire manual is nicely organized with clear instructions for each project. I really liked the color-coded group material boxes.
Izzie enjoyed seeing the artwork from children her own age in each lesson.
There is very little teacher preparation needed.
It's non-consumable, which saves me money! I can tuck it away and reuse it with Mac.
qqqqqqqqqqqqqqqqqqqqqqqqqqqqqqqqqqqqqqqqqqqqqqqqqqqqqqqqqqqqqq
In conclusion, I would highly recommend the The
Early Elementary K-3 Book One: Introduction to the Visual Arts
from ARTistic Pursuits for children in kindergarten through 3rd grade.
Early Elementary K-3 Book One: Introduction to the Visual Arts.
$47.95.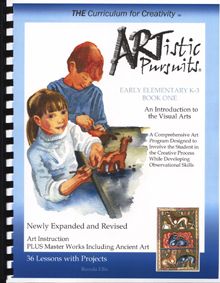 If you are wanting to purchase your products through ARTistic Pursuits, there are
Art Supply Packs
available with all needed supplies for each book.
I look forward to adding other Early Elementary K-3 Books from ARTistic Pursuits to our homeschooling schedule!
Sail over to read what other Crew Mates had to say about their experience with ARTistic Pursuits.

Disclaimer: I received a free copy of this product through the Schoolhouse Review Crew in exchange for my honest review. I was not required to write a positive review nor was I compensated in any other way. All opinions I have expressed are my own or those of my family. I am disclosing this in accordance with the FTC Regulations.