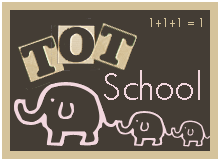 This week has been a very unscheduled "Tot School" week. I'm in the process of Spring cleaning and organizing. I'm having such a hard time trying to figure out how to organize all my information, objects, and other items for Izzie's "schooling".
Any suggestions would greatly be appreciated!
I did discover
Evernote
, which is helping me organize all the wonderful, creative ideas that I'm finding on the different blogs!
What we did do...
Practiced speech with "B" sounding words. List of picture words can be found here.
Practiced using tweezers.
Built block towers to the sky!

For more great Tot School ideas, click here.