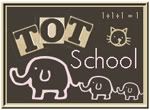 We had another fun week of Tot School. This week on the shelf, there were several new activities about leaves!
This was a very simple matching activity.
Izzie
placed the different color leaves in the correct basket. (Not sure where I found this activity...printed off last year before I started blogging.)
This was a favorite,
Izzie
really enjoyed tracing the leaf. Traceable leaf is from
Kids Soup
.
I found this super fun game at
My Montessori Journey
. Click
here
to see more details about game.
Falling leaves created by
Izzie
!
In addition,
Izzie
participated in
Naturally Curious Tots
this week. The theme was Animal Tracks and Homes. Click
here
to see earlier post with more pictures and details.
Izzie
matched the animal tracks to the correct animal. Cards are from
Montessori For Everyone
.
And she completed her Matching Animals With Their Homes puzzle. Similar puzzle found
here
.
Other activities of the week included:
Teaching Mac how to push her shape sorter walker.
Playing with "Mac's" new
My Pal Scout by Leapfrog
. Grandparents visited for the weekend and brought each girl a new toy.
Izzie
received
the game,
Don't Break The Ice
, but
preferred
playing with Mac's new puppy!
For more Tot School activities,
check
out
1+1+1=1
.