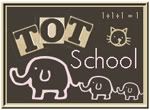 We had a great Tot School week. The shelf included a few new activities mixed in with some old favorite activities.
New activities included:
Izzie
rolled the die and counted the correct number of pumpkins to put in the super cute pumpkin muffin pan. This is great for counting practice. (Pumpkin muffin pan and pumpkin erasers from Target and purple die from Dollar Tree)
More counting practice...I bought these paper pumpkins at the Dollar Tree, added a numeral with corresponding number of stickers, then cut in half to make a matching puzzle game.
Izzie
is still working hard on mastering the tweezers. She was encouraged to use the tweezers to transfer the pumpkin
erasers
into the
pumpkin
ice cube tray. (Ice cube tray from Dollar Tree and plastic green tweezers from Michael's)
Izzie
enjoyed matching up opposite pairs with this great game from
Discovery Toys
. It's a fun way to work on her speech therapy too.
Old shelf favorites this week included:
Matching capital and lowercase letters. To see
original
post with alphabet flashcards, click
here
.
Izzie
also has a fun time working on copying patterns. This is her
favorite
one that I've made, probably because she gets to stack the apples on top of a picture of herself. To see
original
post with templates, click
here
.
She has a little more trouble copying these pictures, but still enjoys trying. Click
here
to see
original
post with more details and pictures.
This week, we also participated in
Tree Hugging Tots
and
Open Ended
Art.
The theme was moon for Tree Hugging Tots.
Izzie
created a full moon.
Henri Matisse was the showcase
artist
this week for Open Ended Art.
Izzie
worked very hard on her Matisse inspired fall collage.
To see more Tot School ideas, check out
1+1+1=1
.