This week, Mac has been having fun with apples!

Apples have been her favorite snack this week!

1. A couple of apple lacing activities...
wooden apple
2. Lauri
Shape and Color Sorter

3. Using
tweezers
to count out apples or sort apples by color from basket.
4. Lauri
Tall Stacker Pegs Building Set
in apple colors!
5. 10 Homemade felt apples
She loved reading the book,
Ten Apples Up On Top
, and trying to place the apples on top of her head!
She also enjoyed tossing the apples into a basket!
Favorite toys of the week:
Melissa and Doug clock puzzle
And cutting with
scissors
! This girl loves to cut, everything! She would cut all day long, if I allowed her too! As a I mentioned before, flimsy paper frustrates her, so I started giving her craft foam to cut. Well, I found another great "something" for her to cut....left over laminated scraps!! Perfect and not wasteful!
Favorite pictures of the week...

Curious to see what other tots are doing? Skip over to
1+1+1=1
to find out!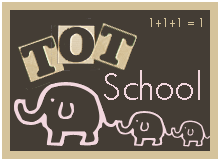 Mac was 32 months old